How to Avoid Cavity Wall Insulation Problems
FreeInsulation Blog - 1st March 2019
Cavity wall insulation is typically installed within a few hours and with the help of a Government-backed grant, it is a low-cost way of helping to save you money on your energy bills, making your home more comfortable and helping to protect the environment from global warming. Problems can happen but a correctly carried out survey minimises the risk.
Does cavity wall insulation cause damp?
Problems can arise if the property is in an exposed location where rainwater persistently comes into contact with the external brickwork. The surveyor will check the exposure and may recommend an alternative product or even advise against having cavity wall insulation installed.
If the cavity contains rubble or there are any other 'bridges' across the cavity, damp spots can appear inside the property. This is known as cold-bridging because the internal wall surfaces will be colder in these areas. During the survey, a small inspection hole is drilled in each wall to ensure that there is no rubble or other obstructions inside the cavity. Damaged guttering, drainpipes or brickwork in poor condition can also cause problems but again, the surveyor will check and advise repairs before the work is carried out.
If there is already damp present, you should have this checked and remedied by a builder before having a cavity wall insulation survey. Condensation on internal walls caused by poor ventilation, excess water vapour, etc. can be eliminated or reduced by having cavity wall insulation fitted.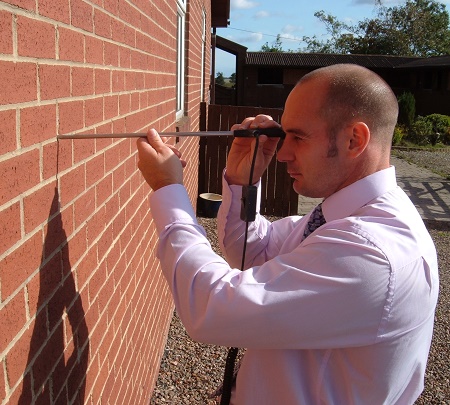 Will installing cavity wall insulation damage my brickwork?
In the vast majority of cases, having cavity wall insulation installed will not cause damage to the brickwork. The insulation is fitted by drilling holes the size of a 20p piece between the T-joints in the cement. Drilling can take small chips out of the brick corners but once the holes are re-filled with colour matched cement, these chips will be barely noticeable.
Very few properties have bricks with perfect corners so it is generally very difficult to tell once the work has been done. If the bricks have perfect square corners and the cement gaps are narrow (under 10mm) then it may be more obvious. The surveyor will be able to advise you if installing cavity wall insulation is likely to affect the appearance of your property.
What if my property is rendered?
The only significant problems that can arise are if the render is loose but the surveyor will make sure it is in good condition. Holes that are around the size of a 20p piece will be drilled into the walls and once the insulation is installed, they will be filled with cement. If the render is painted, the cement will be smoothed over.
Painting is not normally undertaken by cavity wall installers and as the paint may have weathered, it may be necessary to completely repaint rather than touch-up. If the property is pebble-dashed, installers will push some small stones (that have already come loose and gathered at the base of the walls) into the colour-matched cement.
Can cavity wall insulation cause ventilation problems?
Installing cavity wall insulation does cut down the natural air flow into the property. If you have appliances that consume a lot of oxygen such as an open fire, it may be necessary to fit a vent, normally into an external wall. The surveyor will advise you if a vent is required.
Is there any protection against things going wrong?
EnergyLink ensure that all their cavity wall installers are registered with CIGA (the Cavity Insulation Guarantee Agency), an independent organisation. Following the installation, a guarantee will be issued that is valid for a period of 25 years. If problems occur, you should go back to the original installer who is obliged to correct any problems. If this is not possible, CIGA will appoint another contractor and pick up the cost.
For further details please Contact Us