Free Home Insulation Grants
See if you qualify:
External Wall Insulation Grants
External Wall Insulation grants of up to 25% are available. EnergyLink can arrange for you to receive a free, no-obligation survey and quote from an approved local installer. Finance may also be available so you can spread the cost over monthly payments.
Installing External Wall Insulation can save up to £270 per year on fuel bills and prevent 1.8 tonnes of harmful Carbon Dioxide emissions being produced, in addition to improving the appearance of your home.
External Wall Insulation typically costs £7,000 to £15,000 depending on the type and size of the property. Example costs are as follows:
1 Bed Flat: = £6,500.
2 Bed Mid Terrace: = £7,000.
3 Bed Semi: = £11,000.
4 Bed Detached: = £15,500.
If you live in the IV, KW or PH areas of Scotland, you may be entitled to Free External Wall Insulation, providing the property does not have mains gas.
Click here if you are not sure whether you have Solid Walls or if they are already insulated.
Complete Online Form

Free Survey Booked

Insulation Installed

Grant Claimed
Who qualifies for External Wall Insulation Grants?
All home owners and landlords can qualify for External Wall Insulation grants. If you part own the property with a Housing Association, providing you own 50% or more, you are also eligible.
If you are a Council or Housing Association tenant, you should contact them directly or speak to the Energy Saving Trust (0800 512 012) who may be able to help you.
If you cannot afford to pay the required contribution, there are several options available. The cheapest option in most cases is to extend an existing mortgage. Home improvement loans and other forms of finance can also be considered.
Our approved Installers will be able to provide you with the exact cost at the time of survey. They may also offer their own finance packages.
What is External Wall Insulation?
A layer of insulating material (typically 60mm boards) is fitted to the outside walls and covered with render or cladding. There are a variety of finishes to choose from, including: smooth, textured, tiled, painted or brick/stone effect.
External Wall Insulation provides a weatherproof layer that will protect your brickwork, increase sound resistance and help to prevent damp problems.
The insulation material is fitted to the outside of a property so it won't reduce the floor area and can be installed with minimal disruption. It will also renew the appearance of your walls, increase the value of the property and will result in large savings on heating bills.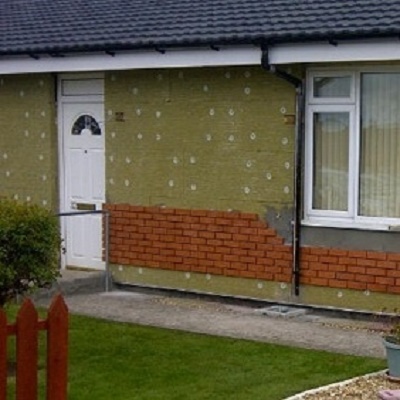 Is my property suitable for External Wall Insulation?
Your property must meet the following criteria before External Wall Insulation can be installed:
Be constructed of solid brick, stone or concrete (not timber-frame).
Have walls that are structurally sound and not in need of repair.
Not be a listed building or in a conservation area/world heritage site.
Not have any signs of damp in the walls.
Have good access to the outer walls.
Not have cavity walls that are already filled or can be filled.
You should also check with your local Council whether planning permission is required. This is unlikely to be granted if the property is a listed building or in a conservation area/world heritage site. If planning permission is not granted, Internal Wall Insulation should be considered.
If your property is brick-built, you need to be sure that it does not have cavity walls that can be filled. If it was constructed before 1924 it is likely to have solid walls and will require External Wall Insulation. If there are any square brick-ends in the pattern as shown below then it will be solid.
Another good indication is to measure the thickness next to doors or windows as Solid Walls tend to be less than 10″ thick, whereas Cavity Walls are normally more than 10″.
External Wall Insulation FAQs
Are any grants available?
A grant of up to 25% is available. External Wall Insulation normally costs between £7,000 and £15,000 depending on the property size.
What if there is damp or other repair work required?
The grants do not cover the cost of repairs. A local builder may be able to assist you with this.
Why can't I have my walls insulated if I have a cavity?
Because the same or similar heat loss can be prevented (and carbon savings made) by installing Cavity Wall Insulation, which is much cheaper to install.
Will it spoil the appearance of my property?
The insulation typically improves the appearance and increases the value of the property. There are several different finishes that will be discussed with you at the time of the survey.
How long does the work take?
Depending on the size of the property, it can take up to one full week.
Is there much mess?
Due to the nature of the work, it is inevitable that there will be some disruption and mess during the installation. However, our approved installers will endeavour to keep this to a minimum and tidy up after themselves.
Do I get a guarantee?
Yes. You will be issued a 25 year guarantee from either GDGC, Kinnell or SWIGA, the Solid Wall Insulation Guarantee Agency.
How much can External Wall Insulation save?
Professionally fitted External Wall Insulation can reduce heat loss by up to 45%. According to the Energy Saving Trust, a semi-detached property heated by gas could save up to £270 per year on heating costs.

External Wall Insulation is one of the most energy efficient improvements you can make to your home. It will help to keep your home warm by preventing heat from escaping and stopping the cold from coming in. This will allow you to turn your heating on less often and for shorter periods therefore making large savings on your energy bills.
When you apply through EnergyLink, we will refer you to an approved installer operating in your local area.

The installer will then telephone you to arrange a free, no-obigation survey. They will make sure your property is suitable for External Wall Insulation, explain the options available and go through their finance package if applicable.

If you're happy to go ahead after the survey, the installer will carry out the work and arrange the External Wall Insulation grants and the finance if required.
We were more than delighted with the service you provided. It was most efficient, effective and you kept us fully informed at all times. The personnel who visited our property to do the survey and carry out the work were a credit to your company.
- Gillian and Wesley Hand
Very helpful men came as promised and installed the loft insulation. Thank you very much.
- Mrs. G Owen
The insulation was installed quick and easily without fuss. A good job done.
- David Hodgson
I had my loft insulated and just wanted to say how happy I was with the service. It was great from start to finish, the girl who first spoke to me about it was very friendly and helpful, the fitters were very efficient and tidy, so big thank you to all concerned.
- Robert Anderson
A big thank you for the way you have helped and done my walls and loft the work was done at a very quick and high standard. With no mess at all so thank all your team for me please.
- Mr Hudson
Our wall cavity and loft insulation work has been carried out, well done and we are very pleased with all who helped us including yourselves. Thank you very much.
- A A Gale