Free Home Insulation Grants
See if you qualify:
Room in Roof Insulation Grants
Room in Roof Insulation grants are available to pay for the entire cost of having loft or attic rooms insulated. If you receive a benefit that qualifies, then you should be entitled to a 100% grant to pay for Room in Roof Insulation, depending on the type of heating system you have installed.
The grant funding is part of the Government's Energy Companies Obligation scheme. The main Energy Suppliers such as British Gas, NPower, etc. have to pay for Insulation in private, domestic households.
Many older properties that were originally built with a loft/attic room or 'Room-in-Roof' were not insulated at the time. If insulation was installed, it is often inadequate by modern standards. Loft conversions that were carried out more than 30 years ago are also likely to be poorly insulated, if at all. Many loft rooms are therefore cold and difficult or impossible to heat.
100% grants are subject to a free, no-obligation survey. In most cases it is free but you may be asked to pay a small contribution, depending on the size and efficiency of the property.
Complete Online Form

Free Survey Booked

Insulation Installed

Grant Claimed
Who qualifies for Room in Roof Insulation Grants?
Room in Roof Insulation grants to cover the entire cost are available if you receive one of the following income or disability-related benefits:
Armed Forces Independence Payment
Attendance Allowance
Carer's Allowance
Child Benefit *
Child Tax Credit
Constant Attendance Allowance
Disability Living Allowance
Income-Based Jobseekers Allowance
Income-Related Employment Support Allowance
Income Support
Industrial Injuries Disablement Benefit
Pension Guarantee Credit
Personal Independence Payment (PIP)
Severe Disablement Allowance
Universal Credit
War Pensions Mobility Supplement
Working Tax Credit
* Household income limits apply. See our who qualifies page for details.
Anyone who does not meet the above criteria can still have a survey and quote to pay for the full cost of the work. Room in Roof Insulation typically costs from £2000.
You also need to own or privately rent the property and it must also be occupied i.e. not empty or undergoing refurbishment. You can also apply if you own 50% or more of a Housing Association property but please mention this in the notes on our form. There must also be a fixed staircase leading to the rooms and not a pull down ladder, etc. The walls and ceiling should also have little or no insulating material present.
What is Room-in-Roof Insulation?
Insulating batts are secured to the walls and the sloping part of the ceiling. Slabs of insulating material are fitted between the batts and plasterboard is secured over the insulation. The room is then skimmed ready for decoration. In some circumstances, insulation boards can be pushed up into the roof behind the sloping part of the ceiling and also secured behind the walls.
If there is a traditional loft space above the rooms, this will also be insulated by laying rolls of glass fibre insulation on the floor of the loft. There is little disrupton and the whole process is usually completed in a day or two.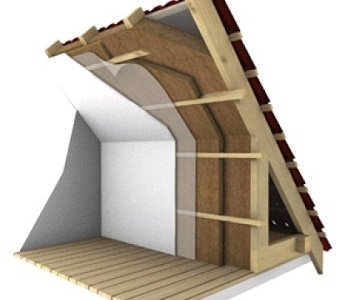 Is it really Free?
If you receive a qualifying benefit, in most cases it is free but a small contribution is sometimes required, depending on the efficiency of the property.
What if I don't qualify?
Even if you're not entitled to a grant, we can still help to organise a survey and quote.
Is the survey Free and how long does it take?
Yes, the survey is free and it typically takes up to two hours.
Will I have to clear the room out?
Yes, the room will need to be empty before the work begins. It does not need to be removed before the survey.
How long does the work take?
Most installations are completed in one day.
What about skirting boards, radiators, sockets and light fittings?
Skirting boards are removed but you will need to replace them. Light fittings and switches are removed and replaced. Radiators are not removed but insulated around, unless you remove and replace them.
Is decoration included in the grant?
No, the walls and ceilings will be ready for decoration when the job is complete.
Will I receive a guarantee?
From 1st July 2020 it will become compulsory for installers to issue a 25 year guarantee. This will be provided by organisations such as GDGC.
How much can Room in Roof Insulation save?
If your loft room is not insulated, you could be losing up to 25% of the heat generated in your home. Insulating the walls and ceiling of the loft room could save you up to £150 per year on your heating bills.
EnergyLink Ltd. can arrange a free, no-obligation survey of your property. If you are happy to proceed after the survey, our approved installer will arrange for the work to be carried out. Once the Insulation has been fitted, they will claim the grant some or all of the cost.
We were more than delighted with the service you provided. It was most efficient, effective and you kept us fully informed at all times. The personnel who visited our property to do the survey and carry out the work were a credit to your company.
- Gillian and Wesley Hand
Very helpful men came as promised and installed the loft insulation. Thank you very much.
- Mrs. G Owen
The insulation was installed quick and easily without fuss. A good job done.
- David Hodgson
I had my loft insulated and just wanted to say how happy I was with the service. It was great from start to finish, the girl who first spoke to me about it was very friendly and helpful, the fitters were very efficient and tidy, so big thank you to all concerned.
- Robert Anderson
A big thank you for the way you have helped and done my walls and loft the work was done at a very quick and high standard. With no mess at all so thank all your team for me please.
- Mr Hudson
Our wall cavity and loft insulation work has been carried out, well done and we are very pleased with all who helped us including yourselves. Thank you very much.
- A A Gale