Free Home Insulation Grants
See if you qualify:
Internal Wall Insulation Grants
The Government's Energy Companies Obligation (ECO) and Green Deal schemes provide Internal Wall Insulation grants across England, Scotland and Wales.
If you receive a qualifying benefit, you should qualify for FREE Internal Wall Insulation, depending on the type of heating system installed. The property should also be privately owned or rented and have solid walls.
A 25 year guarantee is issued upon completion of the work from an organisation such as GDGC.
Click here if you are not sure whether you have Solid Walls or if they are already insulated.
Who qualifies for Internal Wall Insulation Grants?
If someone living in the household receives one of the following benefits, you could be entitled to a grant that will cover the cost of installing Internal Wall Insulation:
Armed Forces Independence Payment
Attendance Allowance
Carer's Allowance
Child Benefit *
Child Tax Credit
Constant Attendance Allowance
Disability Living Allowance
Income-Based Jobseekers Allowance
Income-Related Employment Support Allowance
Income Support
Industrial Injuries Disablement Benefit
Pension Guarantee Credit
Personal Independence Payment (PIP)
Severe Disablement Allowance
Universal Credit
War Pensions Mobility Supplement
Working Tax Credit
* Combined annual household income limits apply. Visit our who qualifies page for full details.
Additional criteria to qualify for a grant is as follows:
You must own or privately rent the property.
The walls should be of solid construction i.e. not cavity walls.
What is Internal Wall Insulation?
There are two main types of Internal Wall Insulation. Insulation boards are either fixed to the walls or a timber frame can be constructed with an insulating material placed between the timber.
Stud walls are stronger than insulation boards and can easily hold the weight of shelving, cupboards, etc. but they tend to be thicker than insulation boards. Both options will require the removal and replacement of fittings such as light switches, skirting boards, etc.
The choice of technique will depend upon how your property is constructed. Internal Wall Insulation installers will be able to advise which solution is best.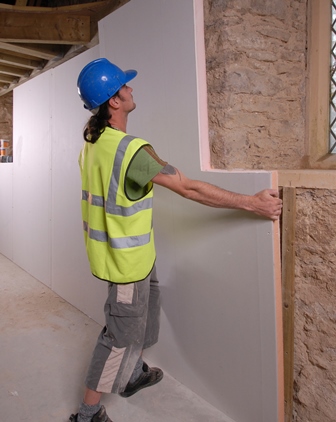 How much can Internal Wall Insulation save?
Having Internal Wall Insulation professionally installed can reduce the amount of heat being lost in the property by up to 45%. This could result in energy bill savings of up to £270 per year in a typical 3 bedroom semi-detached property, according to the Energy Saving Trust.
Once you have completed our application form, we will check to ensure that the property is likely to be suitable before allocating to an approved local insulation installer. They will then telephone you to arrange a free, no-obligation survey. If the property is suitable and you qualify for a grant, the work will be arranged.
We were more than delighted with the service you provided. It was most efficient, effective and you kept us fully informed at all times. The personnel who visited our property to do the survey and carry out the work were a credit to your company.
- Gillian and Wesley Hand
Very helpful men came as promised and installed the loft insulation. Thank you very much.
- Mrs. G Owen
The insulation was installed quick and easily without fuss. A good job done.
- David Hodgson
I had my loft insulated and just wanted to say how happy I was with the service. It was great from start to finish, the girl who first spoke to me about it was very friendly and helpful, the fitters were very efficient and tidy, so big thank you to all concerned.
- Robert Anderson
A big thank you for the way you have helped and done my walls and loft the work was done at a very quick and high standard. With no mess at all so thank all your team for me please.
- Mr Hudson
Our wall cavity and loft insulation work has been carried out, well done and we are very pleased with all who helped us including yourselves. Thank you very much.
- A A Gale