Free Home Insulation Grants
See if you qualify:
Cavity Wall Insulation Grants
If you receive a qualifying benefit, Cavity Wall Insulation grants are available to pay for the entire cost of having Cavity Wall Insulation professionally installed. The property must also be privately owned or rented and occupied at the time of survey.
If you are not entitled to a Free Cavity Wall Insulation grant, we can still arrange a free survey and quote from an approved installer. Costs are typically in the region of £500 to £600.
The grant funding is part of a scheme known as the Energy Companies Obligation (ECO) which was originally part of the Government's Green Deal Energy Efficiency program. The grants come from the main energy suppliers and they do not have to be re-paid.
With energy costs continuing to rise, Cavity Wall Insulation is one of the best ways to reduce your heating bills. Un-insulated Cavity Walls can cause up to 35% of the heat in a property to escape. Cavity Insulation typically saves a household up to £145 each year.
Click here if you are not sure whether you have Cavity Walls or if they are already insulated.
100% grants are subject to a free, no-obligation survey. In most cases it is free but you may be asked to pay a small contribution, depending on the size and efficiency of the property.
Complete Online Form

Free Survey Booked

Insulation Installed

Grant Claimed
Who Qualifies For Cavity Wall Insulation Grants?
FREE Cavity Wall Insulation is available if you receive one of the following benefits:
Armed Forces Independence Payment
Attendance Allowance
Carer's Allowance
Child Benefit *
Child Tax Credit
Constant Attendance Allowance
Disability Living Allowance
Income-Based Jobseekers Allowance
Income-Related Employment Support Allowance
Income Support
Industrial Injuries Disablement Benefit
Pension Guarantee Credit
Personal Independence Payment (PIP)
Severe Disablement Allowance
Universal Credit
War Pensions Mobility Supplement
Working Tax Credit
* Combined annual household income limits apply. Visit our who qualifies page for full details.
The other main criteria is that you own your property or rent it from a private landlord. We cannot assist Council or Housing Association tenants unless you are a Housing Association tenant who owns 50% or more of the property.
The property must also be occupied i.e. not empty or undergoing refurbishment. The wall area to be insulated must be at least 60% of the property size so extensions do not normally qualify for a grant. However, we can arrange a free survey and quote in this instance.
What Is Cavity Wall Insulation?
Most properties built of brick between 1924 and 1982 are likely to have a cavity between two layers of brick, or between brick and block that was not filled with insulation when the property was built.
After 1982, building regulations changed and required insulation to be fitted in the Cavity at the time of build. Before 1924, properties were generally built without a cavity.
A number of properties built after 1982 did not have Cavity Insulation fitted and we are able to help with a grant in most areas, providing it was built before 2005.
Most Installers use Cavity Insulation made from shredded mineral wool (glass fibre), that can reduce the amount of heat escaping from the walls by up to 35%.
Cavity Wall Insulation can save you up to £145 per year on energy bills and reduce carbon emissions by up to 610kg.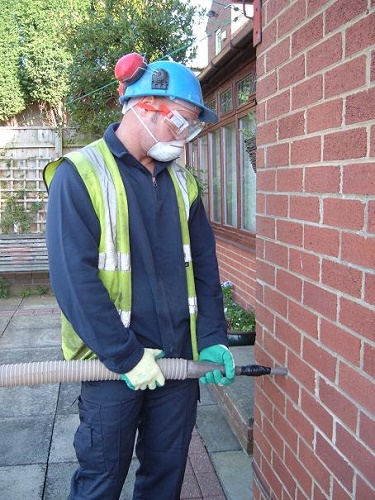 Is My Property Suitable For Cavity Wall Insulation?
Recent research, carried out by the Department of Energy and Climate Change (DECC), showed that only 58% of all properties that can benefit from Cavity Wall Insulation have been insulated. Your property could be among the remaining 42% still to be insulated.
The first thing to check before applying for a Grant is whether your home has cavity walls. Most properties built of brick from 1924 onwards are likely to have a cavity. If your property was built before 1924, it is likely to have solid walls as shown below:
Another way to tell whether your property has a cavity is if the walls are at least 250mm (10″) thick. Properties that are built after 1982 should already have Cavity Wall Insulation, as building regulations changed to ensure it was fitted during construction.
If you think that your property already has Cavity Wall Insulation, it is not worth applying for a Grant as Cavity Wall Insulation cannot be topped up.
You will NOT be able to have Cavity Wall Insulation installed if:
Your property was built before 1924 or after 2005.
The walls have already been filled with blown Insulation.
You live in a flat and do not have the agreement of neighbours above and below.
There are any signs of damp on the inside or outside of the walls.
The property is timber/steel framed, concrete or stone.
Ventilation is inadequate and a vent cannot be fitted.
If your property has solid walls, rather than cavity walls,
you may be able to claim a grant for External Wall Insulation.
How Much Can Cavity Wall Insulation Save?
Cavity Wall Insulation prevents up to 35% of the heat generated in your home from escaping. This results in lower energy bills because your heating can be turned on less often and for shorter periods. Savings of up to £145 per year are possible.

Because less fossil fuel is being burned, Cavity Wall Insulation will also reduce carbon emissions by up to 610kg per year, therefore helping to protect the environment from global warming.

Savings figures are based on Energy Saving Trust estimates for a semi-detached property heated by gas.

Our online form will make sure an approved Installer operates in your area, check that your property is likely to be suitable and give you an indication of whether you are likely to qualify for Cavity Wall Insulation Grants. You can then enter your details and an approved installer will contact you to book a free no-obligation survey.

If you are happy to proceed, the Installer will arrange the work. Once the Cavity Wall Insulation is fitted, if you are entitled to a grant, our Installer will claim the Grant amount from an Energy Company or one of their agents. They will then apply for the 25 year Cavity Guarantee through CIGA (the Cavity Insulation Guarantee Agency).
We were more than delighted with the service you provided. It was most efficient, effective and you kept us fully informed at all times. The personnel who visited our property to do the survey and carry out the work were a credit to your company.
- Gillian and Wesley Hand
Very helpful men came as promised and installed the loft insulation. Thank you very much.
- Mrs. G Owen
The insulation was installed quick and easily without fuss. A good job done.
- David Hodgson
I had my loft insulated and just wanted to say how happy I was with the service. It was great from start to finish, the girl who first spoke to me about it was very friendly and helpful, the fitters were very efficient and tidy, so big thank you to all concerned.
- Robert Anderson
A big thank you for the way you have helped and done my walls and loft the work was done at a very quick and high standard. With no mess at all so thank all your team for me please.
- Mr Hudson
Our wall cavity and loft insulation work has been carried out, well done and we are very pleased with all who helped us including yourselves. Thank you very much.
- A A Gale