Should you choose Internal or External Wall Insulation?
FreeInsulation Blog - 15th April 2019
If your home has solid walls as opposed to cavity walls, it will be losing a lot more heat so it is a good idea to have the walls insulated. It is far more expensive to have solid walls insulated than cavity walls but fortunately, grans are available towards the cost.
Insulating solid walls can be done either externally or internally, and while both methods offer similar energy savings, they each have their own advantages and disadvantages. With both internal and external insulation you would need to sort out any problems with rising or penetrating damp in the walls before work begins. So how do you know which option to go for?
Internal Wall Insulation:
This involves fitting rigid boards to the walls, or alternatively a separate stud wall can be built and the gap filled with insulating material, which could be mineral wool fibre.
Advantages of Internal Wall Insulation:
– It is cheaper to install than external insulation so grant funding covers more of the cost.
– The outside appearance of your home will remain unchanged, which is important for period properties for example. This makes it more suitable for use on buildings in Conservation Areas as there are usually strict rules about altering the appearance of your home.
– It is easier to install with no need for scaffolding.
– It is more suitable for flats or maisonettes, as you can't use external insulation for just one unit in a block.
Disadvantages of Internal Wall Insulation are:
– It will reduce the size of the rooms in your home, as the walls can be brought in by as much as 4 inches.
– It is more disruptive to install as light switches, skirting boards, radiators, carpets etc have to be removed and re-fitted. Also, the installers will obviously be working inside your home.
– Any internal period features in your home could be covered up.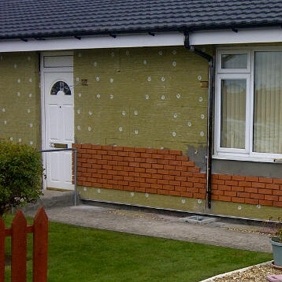 External Wall Insulation:
A layer of insulating material is fixed to the wall using a combination of adhesive and mechanical fixings, and then the insulation is covered with protective layers of render or cladding such as brick effect. Note that cladding is more expensive than render.
Advantages of External Wall Insulation:
– The installers will be working outside, making it less disruptive.
– The appearance of your home can be improved with your choice of finish. There are more options for this with the more expensive cladding.
– It doesn't reduce the size of any of your rooms.
– It makes your home more weatherproof and soundproof
Disadvantages of External Wall Insulation:
– It is more expensive than internal insulation so grant funding covers a lot less of the cost which means you will have to pay more towards it.
– It alters the external appearance of your home which means it is unsuitable for period or character properties.
– You may need to get planning permission which is probably not possible on listed buildings.
If you would like to apply for a grant for either internal or external wall insulation, please complete our application form. EnergyLink will then check to see if your property is likely to be suitable for solid wall insulation before allocating you to an approved local installer.